The Responsibility to Protect, From Promise to Practice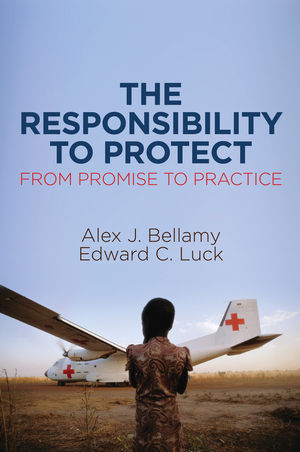 The Responsibility to Protect, From Promise to Practice
ISBN: 978-1-509-51247-8
Nov 2018, Polity
324 pages
Product not available for purchase
Description
In 2005, the international community made a landmark commitment to prevent mass atrocities by unanimously adopting the UN's 'Responsibility to Protect' (R2P) principle. As often as not, however, R2P has failed to translate into decisive action. Why does this gap persist between the world's normative pledges to R2P and its ability to make it a daily lived reality?

In this new book, leading global authorities on humanitarian protection Alex Bellamy and Edward Luck offer a probing and in-depth response to this fundamental question, calling for a more comprehensive approach to the practice of R2P – one that moves beyond states and the UN to include the full range of actors that play a role in protecting vulnerable populations. Drawing on cases from the Middle East to sub-Saharan Africa and Southeast Asia, they examine the forces and conditions that produce atrocity crimes and the challenge of responding to them quickly and effectively. Ultimately, they advocate for both emergency policies to temporarily stop carnage, and for policies leading to sustainable change within societies and governments. Only by introducing these additional elements to the R2P toolkit will the failures associated with humanitarian crises like Syria and Libya become a thing of the past.
Contents
Acknowledgements
Introduction
1. R2P as Principle and Policy
2. R2P in World Politics
3. Unexpected Challenges and Opportunities
4. In Search of the International Community
5. The Domestic Dimensions
6. The Challenge of Prevention
7. Making a Difference: Lessons from Experience
Conclusion
"This book is a must-read for anyone seeking to curb atrocity crimes. Getting beyond endless debates about theory, the authors draw innovative lessons from a decade of international and national practice in implementing the Responsibility to Protect. This was one of my chief priorities as Secretary-General and Professor Luck, as my Special Adviser, was the architect of my three pillar strategy for prevention and protection. I know that there is nothing easy about trying to protect populations and prevent atrocity crimes, but I also know from experience that it can and must be done. With vivid prose and the keen insight of practitioners, Professors Bellamy and Luck tell us how. Every official, advocate, humanitarian, analyst, scholar, and student should read this timely and masterly account. It points the way to a more secure and humane future."
H.E. Ban Ki-moon, Secretary-General of the United Nations, 2007-2016

"R2P is now a globally accepted norm, but universally effective atrocity prevention in practice remains a battle barely half-won. This is the guide to the task ahead the world has been waiting for. The richness and precision of Luck's and Bellamy's analysis should satisfy the most demanding academics, while the sharp practicality of their prescriptions - supported by a wealth of real-world lessons-learned examples - will be of enormous help to policymakers. This is not just one for the bookshelves: it demands to be read."
Gareth Evans, Co-Chair of International Commission on Intervention and State Sovereignty; former Australian Foreign Minister; President Emeritus of International Crisis Group; author of The Responsibility to Protect: Ending Mass Atrocity Crimes Once and For All.