The MRCS Examination: MCQs and EMQs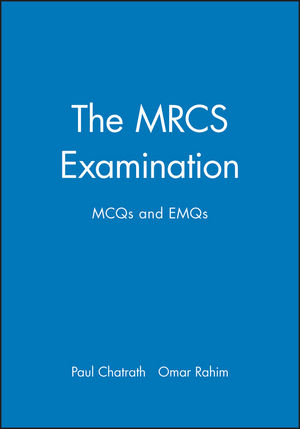 The MRCS Examination: MCQs and EMQs
ISBN: 978-0-632-05402-2 November 1999 Wiley-Blackwell 160 Pages
Description
Specifically designed for the current requirements of the MRCS examination, this book reflects the balance between basic science and clinical surgery. Each core and system chapter contains both multiple choice and extended matching questions. Additionally, it includes detailed explanations, and is ideally suited to preparation for this examination.
Preface.
Structure of the MRCS Written Papers.
How to use this book.
.
.
Section 1: Core Modules:.
1. Perioperative management 1.
Answers.
2 Perioperative management 2.
Answers.
3 Trauma.
Answers.
4 Intensive Care.
Answers.
5 Neoplasia.
.
Answers.
.
.
Section 2: Systems Modules:.
A Locomotor.
Answers.
B Vascular.
Answers.
C Head and Neck.
Answers.
D Abdomen.
Answers.
E Urology.
Answers.
Index
Pre-publication reviews:
"The book closely ties in with the MRCS STEP distance learning course...In principle I would adopt this as a text to assist my revision for the MRCS examination."
Dr Andrew Jones, SHO Accident and Emergency, St James University Hospital

"...this book covers the ground [for the MRCS] in an appropriate and well ordered manner."

Neil Borley, Clinical Tutor in Surgery, Oxford