Taxation for Decision Makers, 2019 Edition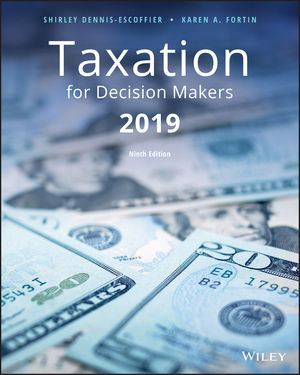 Taxation for Decision Makers, 2019 Edition
ISBN: 978-1-119-49722-6
Jun 2018
656 pages
Description
TRY (FREE for 14 days), OR RENT this title: www.wileystudentchoice.com

Taxation for Decision Makers, 2019 Edition is designed for a one-semester introductory tax course at either the undergraduate or graduate level. It is ideal for an MBA course or any program emphasizing a decision-making approach. This text introduces all tax topics on the CPA exam in only 12 chapters. This text covers basic taxation of all taxable entities: individuals, corporations, S corporations, partnerships, and fiduciary entities, emphasizing a balance between concepts and details. Tax concepts and applications are presented in a clear, concise, student-friendly writing style with sufficient technical detail to provide a foundation for future practice in taxation and consulting while not overwhelming the student with seldom-encountered details.
Preface
About the Authors
PART I INTRODUCTION TO TAXATION AND ITS ENVIRONMENT
1 An Introduction to Taxation
2 The Tax Practice Environment
PART II INCOME, EXPENSES, AND INDIVIDUAL TAXES
3 Determining Gross Income
4 Employee Compensation
5 Deductions for Individuals and Tax Determination
PART III BUSINESS AND PROPERTY CONCEPTS
6 Business Expenses
7 Property Acquisitions and Cost Recovery Deductions
PART IV PROPERTY DISPOSITIONS
8 Property Dispositions
9 Tax-Deferred Exchanges
PART V BUSINESS TAXATION
10 Taxation of Corporations
11 Sole Proprietorships and Flow-Through Entities
PART VI WEALTH TAXATION
12 Estates, Gifts, and Trusts
Appendix Selected Tax Tables for 2018 and 2017
Index
The Tax Cuts and Jobs Act passed by Congress in December 2017 is the most significant change to tax law in more than thirty years. This text has been completely updated for all changes made by this Act as well as the Bipartisan Budget Act of 2018 and all other new pronouncements issued in the first several months of 2018.
In addition to updating all chapters for changes to the tax law, Chapter 1 was modified to introduce the changes made to the taxation of corporations and flow-through businesses. The decision-making focus of this text is introduced in this first chapter through simple problems on the choice of business form.
New tax forms are introduced in several chapters of the text.
A complete set of filled-in forms for a C corporation, partnership, S corporation, and sole proprietorship are also included on the companion website for this text.
Finally, the authors went over the text line-by-line, not only to update it, but to improve readability.
• Engage Learning Platform: combines learning resources, auto-graded assignments, and time management tools customized to each instructor's teaching style to help students do better in their course.
• Balanced Approach: This text strikes a balance between concepts and details by including sufficient technical detail to provide a foundation for future practice in taxation and consulting while not overwhelming the student with seldom-encountered technicalities. The importance of tax planning is woven into each chapter with margin icons highlighting planning opportunities.
• Promotion of Critical Analysis and Decision-Making Skills: The chapter-opening case introduces key concepts which emphasize the most important topics that students need to master. These cases are then revisited at the end of each chapter for greater reinforcement.
• Comprehensive and Flexible: Chapter arrangement and topic presentation make it easy to change the sequence of chapters, while the Expanded Topics section included at the end of several chapters contain more advanced topics allowing instructors to achieve the level of rigor appropriate for each particular class.
• All chapters updated to include relevant changes in tax law including inflation adjustments, new cases, and new rulings through the first quarter of 2018.
• Additional examples included with completed tax forms.
• All chapters reviewed to ensure that all tax topics tested on the new CPA exam are introduced and adequately addressed in the text.
• Chapter 1 incorporates additional coverage of individual taxation to provide adequate background for those classes with primary emphasis on taxation of entities.