Social Deviance, 2nd Edition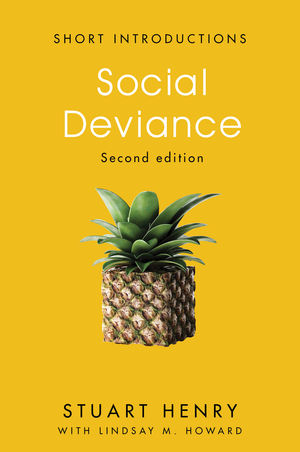 Social Deviance, 2nd Edition
ISBN: 978-1-509-52354-2
Nov 2018, Polity
208 pages
Product not available for purchase
Description
The new edition of this popular introduction explores the meaning of social deviance in contemporary society. Stuart Henry traces the path by which we create deviance: how we single out behavior, ideas, and appearances that differ from the "norm," label them as either offensive or acceptable, and then condemn or celebrate them. The book explains what kinds of behaviors are banned and who bans them, exposing the important political influences underlying these processes. Benefiting from the collaboration of Lindsay M. Howard and a new engaging, accessible style, the second edition features expanded treatment of the theories of deviance, new material on positive deviance, and updated references and contemporary examples throughout.

At its core, Social Deviance looks at who becomes deviant and why. It delves into the multiple motives that cause rule breakers to behave badly, at least in the eyes of those they offend, or behave creatively in the eyes of those they please. It reveals the way deviants think about their actions, their moral identity, and their fellow moral outcasts.
Preface
1 What is deviance?
2 Why people ban behavior
3 What causes people to deviate? Theories of deviant behavior
4 Why people break rules: From extreme deviance to positive deviance
5 Neutralizing morality and deviant motivations
6 Failed socialization and weak social control
7 How people become deviants: Labeling deviant actors
8 Responding to deviant designations and coping with stigma
9 Becoming normal: The politics of stigma
Conclusion: What can the study of social deviance do for you?
- Completely rewritten to increase the acccessibilty and suitability for students, with more careful description and illustration of key concepts.
- Addition of further reading sections for teaching purposes.
- Thoroughly updated with new examples, literature, and ideas in the sociology of deviance.
- Whole new chapter on theories of deviance.
- More material on positive deviance.
Stuart Henry has done a remarkable job of introducing the student to what is perhaps the most intriguing subject in the undergraduate curriculum--the sociology of deviance. Yes, deviance is alive and well. Pick up this book and read it. It is a brisk, engaging, and informative account of normative violations and their aftermath. Our students will enjoy and learn from it.
Erich Goode, State University of New York at Stony Brook

The second edition of this book arrives at a propitious time in history, when our social fabric is being questioned on moral, ethical, and political grounds like never before. Henry and Howard have, once again, done a superb job of contextualizing deviance among contemporary issues. Social Deviance allows students to embrace the key concepts in the field, to understand the complexity of the issues, and to be able to apply these ideas to their everyday lives. It is well written and uses simple, non-jargonized language with excellent examples to get its point across. Like the first edition, it stands unmatched in its enunciation of the complexities of deviant behaviour in a straightforward manner.
Peter Adler, University of Denver (Emeritus)