Sewing For Dummies, 3rd Edition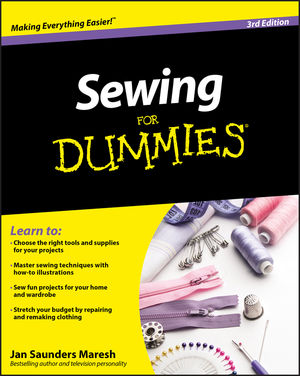 Sewing For Dummies, 3rd Edition
ISBN: 978-0-470-88758-5 August 2010 416 Pages
Description
The most complete guide to sewing basics
People are always looking for ways to cut expenses and be creative and stylish at the same time. Learning to sew is a great way to arm yourself with the skills to repair and create clothing and furnishings for yourself and your family for little to no cost. But learning how to sew and how to choose the tools and supplies to begin sewing can be confusing.
Now, you can turn to this hands-on, friendly guide for the most up-to-date information, the best techniques, and fun projects for learning (or brushing up on) the art of sewing.
Easy-to-follow instructions and step-by-step illustrations make it easier to learn
Fresh new patterns, projects, stitches, and techniques for fashion and the home
Budget-conscious tips for breathing new life into existing garments
Complete with a section on common sewing mistakes and how to avoid them, Sewing For Dummies, 3rd edition gives you the confidence and know-how to sew like a pro.
Introduction.
Part I: Getting Ready to Sew.
Chapter 1: The World of Sewing.
Chapter 2: Assembling Your Sewing Kit.
Chapter 3: Selecting Fabric, Findings, and Interfacing.
Chapter 4: Working with Patterns.
Part II: Mastering Basic Sewing Skills.
Chapter 5: Kicking Off Your Sewing Adventure.
Chapter 6: Securing Sensational Seams.
Chapter 7: Fast and Easy Hems by Hand and Machine.
Part III: Fashion Sewing Fun-damentals.
Chapter 8: Shaping Things Up.
Chapter 9: Zippers, Buttons, and Other Closure Company.
Chapter 10: Sleeves: The Long and the Short of It.
Chapter 11: Pockets Full of Ideas.
Part IV: Sewing for Your Home.
Chapter 12: Do-It-Yourself Decorating: Home Décor Sewing.
Chapter 13: Quick-Change Table Toppers.
Chapter 14: Praiseworthy Pillows.
Chapter 15: Adding Wow to Your Windows.
Chapter 16: Giving Your Bed a Makeover.
Part V: Making Alterations and Quick Fixes for a Sustainable Wardrobe.
Chapter 17: When Clothes Are Too Short, Too Long, Too Tight, or Too Loose.
Chapter 18: Making Repairs on the Run.
Chapter 19: Eco Fashion: Giving Existing Garments New Life.
Part VI: The Part of Tens.
Chapter 20: Ten Tips for Mixing Prints.
Chapter 21: Ten Rookie Sewing Mistakes to Avoid.
Chapter 22: Ten Important Sewing Fundamentals.
Appendix: Sewing Resources.
Index.