Qualitative Research for Occupational and Physical Therapists: A Practical Guide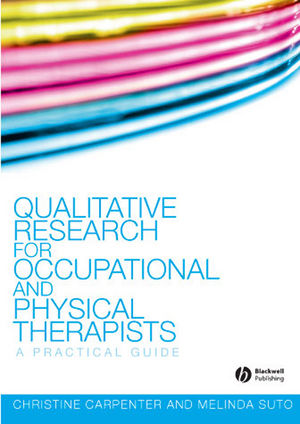 Qualitative Research for Occupational and Physical Therapists: A Practical Guide
ISBN: 978-1-405-14435-3 February 2008 Wiley-Blackwell 202 Pages
Description
Qualitative Research for Occupational and Physical Therapists is a practical guide for students and professionals in rehabilitation intended to encourage their active engagement with this major approach to research design and implementation.

Carpenter and Suto address the specific needs of the therapy professions by examining the unique challenges of conducting qualitative research in community and institutional rehabilitation settings. Whilst grounded in contemporary literature, the book puts theory into action with examples of research and a demonstration of how such studies have directly influenced rehabilitation practice.

The book covers the entire research process from the initial preparation through to implementing, interpreting, disseminating, and ensuring the quality of qualitative research.
Chapter 1. Qualitative research in the rehabilitation context.
Chapter 2. Why choose qualitative research in rehabilitation?.
Chapter 3. Developing a research plan.
Chapter 4. Using methodological theory in planning qualitative research.
Chapter 5. Involving participants and data collection methods.
Chapter 6. Managing qualitative data.
Chapter 7. Analyzing qualitative data.
Chapter 8. Writing and disseminating qualitative research.
Chapter 9. Ensuring the quality of qualitative research.
Chapter 10. Developments in qualitative research
● Focuses on conducting research with 'real' people in rehabilitation settings
● Assists in the definition of research problems in rehabilitation for qualitative research enquiry
● Encourages the identification of processes involved in research and study design
● Highlights ethical issues inherent in designing and implementing qualitative research, and disseminating the findings