Playwriting For Dummies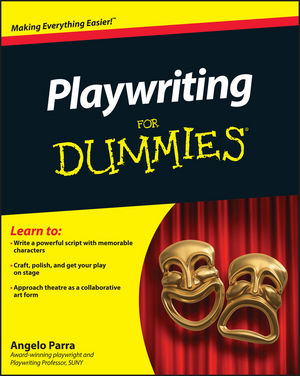 Playwriting For Dummies
ISBN: 978-1-118-12097-2 June 2011 384 Pages
Description
The easy way to craft, polish, and get your play on stage
Getting a play written and produced is a daunting process. From crystallizing story ideas, formatting the script, understanding the roles of the director stagecraft people, to marketing and financing your project, and incorporating professional insights on writing, there are plenty of ins and outs that every aspiring playwright needs to know. But where can you turn for guidance?
Playwriting For Dummies helps any writer at any stage of the process hone their craft and create the most dramatic and effective pieces.
Guides you through every process of playwriting?from soliloquies, church skits, and one act plays to big Broadway musicals
Advice on moving your script to the public stage
Guidance on navigating loopholes
If you're an aspiring playwright looking to begin the process, or have already penned a masterpiece and need trusted advice to bring it into the spotlight, Playwriting For Dummies has you covered.
Introduction.
Part I: Catching the Playwriting Bug.
Chapter 1: Introducing the Art and Craft of Playwriting.
Chapter 2: Living the Life of a Playwright.
Chapter 3: What Makes a Play.
Chapter 4: Starting with an Idea.
Chapter 5: Finding Your Play's Theme.
Part II: Creating a Blueprint for Your Play.
Chapter 6: Putting Your Story in Focus.
Chapter 7: Creating Full and Rich Characters.
Chapter 8: Dialogue: The Most Important Tool in Your Toolbox.
Chapter 9: Practical Considerations: Staging, Cast, and Audience.
Part III: The Nuts and Bolts of Putting Your Story Together.
Chapter 10: The Beginning: Finding a Starting Point for Your Play.
Chapter 11: The Middle: Developing Your Story Line.
Chapter 12: The Climax: Bringing the Confl ict to a Head.
Chapter 13: The Resolution: Wrapping It All Up.
Chapter 14: Giving the Musical Special Consideration.
Part IV: The Show Must Go On.
Chapter 15: Getting Your Play Read and Making Revisions.
Chapter 16: Rehearsals and Premieres: Nail Biting 101.
Chapter 17: Promoting Your Play and Getting a Production.
Part V: The Part of Tens.
Chapter 18: Ten Things Every Playwright Should Know.
Chapter 19: Ten Hallmarks of a Great Play.
Chapter 20: Ten Playwrights You Should Know and Emulate.
Appendix: Formatting a Script.
Index.