Organic Indoor Air Pollutants: Occurrence, Measurement, Evaluation, 2nd Edition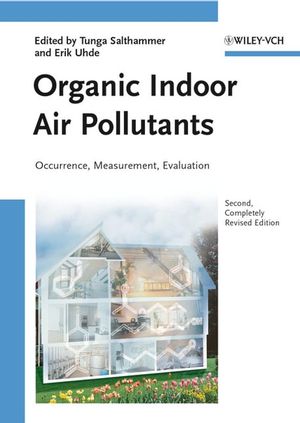 Organic Indoor Air Pollutants: Occurrence, Measurement, Evaluation, 2nd Edition
ISBN: 978-3-527-62889-6 November 2009 464 Pages
Description
With the quality of indoor air ranking highly in our lives, this second, completely, revised edition now includes 12 completely new chapters addressing both chemical and analytical aspects of organic pollutants.
Sources of indoor air pollutants, measurement and detection as well as evaluation are covered filling the gap in the literature caused by this topical subject.
This book is divided into four clearly defined parts: measuring organic indoor pollutants, investigation concepts and quality guidelines, field studies, and emission studies. The authors cover physico-chemical fundamentals of organic pollutants, relevant definitions and terminology, emission sources, sampling techniques and instrumentation, exposure assessment as well as methods for control. Test methods and studies for various indoor environments are described, such as automobile interiors, museum environments, or rooms with air ventilation. Emission sources covered include household and consumer products as well as electronic devices and office equipment.
The book is aimed at chemists, physicists, biologists, and medical doctors at universities and research facilities, in industry and environmental laboratories as well as regulative bodies.

MEASURING ORGANIC INDOOR POLLUTANTS
Application of solid sorbents for the sampling of VOCs in indoor air.
Sampling and analysis of SVOCs and POM in indoor air.
Application of diffusive samplers.
Real-time monitoring techniques.
Emission test chambers and cells.
Mathematical modeling of test chamber kinetics.
INVESTIGATION CONCEPTS AND QUALITY GUIDELINES
Standardised methods for emission testing of building products.
Standard test methods for the determination of VOCs and SVOCs in automobile interiors.
Odorous compounds
Concepts for a healthy indoor environment in eastern asia
Indoor Air Quality Guidelines
FIELD STUDIES
Effect of ventilation on VOCs in indoor air
Organic pollutants in the indoor environment.
Indoor pollutants in the museum environment
Indoor chemistry
Human responses to organic air pollutants
EMISSION STUDIES
Volatile organic ingredients of household and consumer products.
Building products as a source of indoor pollutants
Emission of VOCs and SVOCs from electronic devices and office equipment

"The book provides the reader with a clear introduction to an important area of indoor air research. It will serve as a useful guide for chemists, physicists, biologists and medical doctors at universities and research facilities, in industry and environmental laboratories, as well as regulative bodies." (International Journal of Environmental Analytical Chemistry, 1 May 2011)
"The book provides the reader with a clear introduction to an important area of indoor air research. It will serve as a useful guide for chemists, physicists, biologists and medical doctors at universities and research facilities, in industry and environmental laboratories, as well as regulative bodies." (Chemistry Journals, 11 April 2011)
"One excellent thing about this book is that at the end of most chapters there is a summary paragraph entitled ''Concluding remarks'' an idea that could well be copied by others." (Chromatographia, December 2010)