Nanotechnology in Environmental Science, 2 Volumes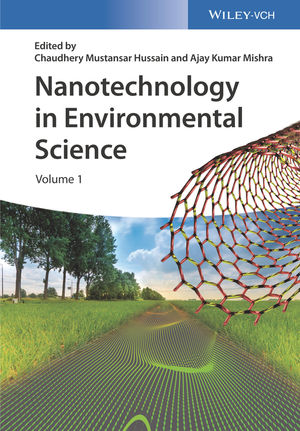 Nanotechnology in Environmental Science, 2 Volumes
ISBN: 978-3-527-80886-1 February 2018 331 Pages
Description
An overview of the current state of nanotechnology-based devices with applications in environmental science, focusing on nanomaterials and polymer nanocomposites.
The handbook pays special attention to those nanotechnology-based approaches that promise easier, faster and cheaper processes in environmental monitoring and remediation. Furthermore, it presents up-to-date information on the economics, toxicity and regulations related to nanotechnology in detail. The book closes with a look at the role of nanotechnology for a green and sustainable future.
With its coverage of existing and soon-to-be-realized devices this is an indispensable reference for both academic and corporate R&D.
Preface xxi
Volume 1
Part One Introduction: Change in Perspective due to
Nanotechnology for Environmental Techniques and Devices 1
1 Nanomaterials for Environmental Science: A Recent and Future Perspective 3
Sukanchan Palit and Chaudhery Mustansar Hussain
1.1 Introduction 3
1.2 The Aim and Objective of the Study 3
1.3 Scientific Vision and Cognizance in the Field of Nanotechnology 4
1.4 Frontiers of Nanotechnology and the Vision for the Future 5
1.5 The Vision and Advancements in the Field of Nanotechnology 5
1.6 Recent Scientific Endeavor in the Field of Nanoscience and Nanotechnology 6
1.7 The Status of Environment Today 7
1.8 Environmental Sustainability: Its Vision for the Future 8
1.9 Technological Vision and Scientific Objective in the Field of Application of Nanomaterials 8
1.10 Recent Scientific Research Pursuit in the Field of Nanomaterials and Its Applications 8
1.11 The Avenues Ahead in the Field of Nanotechnology Applications 10
1.12 Scientific Cognizance and Scientific Sagacity of Environmental Engineering 11
1.13 Nontraditional Environmental Engineering Techniques 11
1.13.1 Scientific Doctrine of Advanced Oxidation Processes 11
1.14 Future Trends and Scientific Doctrine of Novel Separation Processes 13
1.15 Recent Scientific Research Pursuits in Membrane Science 13
1.16 Future Trends in Research and Development in Nanomaterials 15
1.17 Future Flow of Scientific Thoughts and the Scientific Progress 15
1.18 Conclusions 16
References 16
2 Atomic-scale Study of Fullerene Molecules on Semiconductor Surfaces 19
R.Z. Bakhtizin and A.I. Oreshkin
2.1 Introduction 19
2.2 STM Study of C60 Adsorption on Solid Surface 20
2.3 C60F18 on Si(111) 20
2.4 C60F18 on Si(100)-2 × 1 28
2.5 C60F36 on Si(111)-7 × 7 31
2.6 Conclusions 35
References 35
3 Recent Advances in Nanostructured Catalysts for Vehicle Exhaust Gas Treatment 39
Gennady Gerasimov and Michael Pogosbekian
3.1 Introduction 39
3.2 Diesel Oxidation Catalyst 40
3.3 Diesel Particulate Filter 42
3.4 Three-way Catalysts 48
3.5 Selective Catalytic Reduction 53
3.6 Lean NOx Traps 57
3.7 Conclusions 62
References 63
4 Analytical Applications of Nanoscale Materials for Water Treatment: A Review 71
Suvardhan Kanchi, Myalowenkosi I. Sabela, and Krishna Bisetty
4.1 Introduction 71
4.2 Significance of Nanotechnology for Wastewater Purification 72
4.3 Classification of Nanoadsorbents 74
4.4 Analytical Applications 85
4.5 Concluding Remarks and Prospects 109
Abbreviations 110
Acknowledgment 112
References 113
Part Two Carbon Nanomaterials for Environmental Devices and Techniques 125
5 Carbon Nanomaterials-based Nanocomposite as Emerging Field for Pollution Control 127
Sapna and Dinesh Kumar
5.1 Introduction 127
5.2 Carbon Nanotubes 128
5.3 CNT Sensors 129
5.4 Graphene 130
5.5 Fullerene 140
Acknowledgment 141
References 141
6 Nanocarbons in Agricultural Plants: Can be a Potential Nanofertilizer? 153
Anupriya Singh, Anshu Bhati, Gunture, Kumud Malika Tripathi, and Sumit Kumar Sonkar
6.1 Introduction 153
6.2 Organic Carbon-based Fertilizer as "Biochar" 155
6.3 Nanocarbons in Plant Growth 169
6.4 Conclusions 180
Acknowledgments 181
References 181
7 Adsorptive Removal of Antibiotics onto Graphene–Soy Protein Aerogel Composites from Aqeous Solution 191
Fei Yu, Yong Li, and Jie Ma
7.1 Introduction 191
7.2 Experiment 192
7.3 Results and Discussion 194
7.4 Conclusions 205
References 205
Part Three Functionalized Nanomaterial for Environmental Techniques 209
8 Photocatalysis: Activity of Nanomaterials 211
Tetiana Tatarchuk, Amalthi Peter, Basma Al-Najar, Judith Vijaya, and Mohamed Bououdina
8.1 Nanomaterials for Photocatalysis 211
8.2 Mechanism of Photocatalysis 212
8.3 Synthesis of Photocatalytic Materials 220
8.4 Phase Transition and Microstructure of Photocatalytic Materials 237
8.5 Optical and Magnetic Properties 244
8.6 Photocatalytic Activity 257
References 269
9 Functionally Active Nanomaterials for Environmental Remediation 293
Sangeeta Adhikari, N. Krishna Rao Eswar, Ajay Kumar Mishra, Debasish Sarkar, and Giridhar Madras
9.1 Introduction 293
9.2 Concept of Integral Environmental Pollutants 294
9.3 Purpose of Functionally Active Nanomaterials 294
9.4 Functionally Active Nanomaterials 295
9.5 Potential Methods for Environmental Remediation 295
9.6 Functionally Active Nanomaterials for Remediation of Environmental Pollutants 298
9.7 Conclusions and Future Directions 308
References 308
10 Functionalized Nanomaterial for Environmental Techniques 315
Maher Darwish and Ali Mohammadi
10.1 Introduction 315
10.2 Nanomaterial-based Environmental Techniques 316
10.3 Limitations of Nanomaterials Used for Environmental Techniques 317
10.4 Methods of Nanomaterials' Functionalization 317
10.5 Nanomaterial–Functional Groups Bonding Types 319
10.6 Functionalization and Applications of Silica-based Nanomaterials 320
10.7 Functionalization and Applications of Carbonaceous Nanomaterials 324
10.8 Functionalization and Applications of Metal and Metal Compound Nanomaterials 332
10.9 Conclusions 336
References 336
Part Four Nanoseparation Devices for Environment 351
11 Comprehensive Treatment of Industrial Wastewater with Membrane Separation Technology: From Hybrid Process to Novel Devices 353
Xiaobin Jiang, Gaohong He, Jianchao Cai, Wu Xiao, Xiangcun Li, Xuemei Wu, and Xuehua Ruan
11.1 Introduction 353
11.2 Membrane and Membrane Process for Industrial Wastewater Treatment 354
11.3 Applications of Membrane Process for Wastewater Treatment and Comprehensive Recovery 366
11.4 Novel Devices for Process Intensification and Fouling Control 374
11.5 Conclusions and Perspective 380
Acknowledgments 381
References 381
12 A Review on the Advancements of Nanomembranes for Water Treatment 391
Lavanya Madhura and Shalini Singh
12.1 Introduction 391
12.2 Separation Mechanisms in Nanofiltration 395
12.3 Fabrication and Modification of Nanofiltration Membrane 396
12.4 Application to Water Treatment 400
12.5 Fouling 404
12.6 Conclusions 406
Acknowledgment 407
References 407
13 Manipulating Grouping Dynamics of Nanoscale Boron Particles as Basis for Environmentally Friendlier Combustion and Efficient Filtration 413
David Katoshevski and Levan Chkhartishvili
13.1 Boron Particles and Powders: A Review 413
13.2 Clustering of Particles in Oscillating Flow: From the Nanometric to the Hundred-micrometer Size Range 422
Acknowledgments 435
References 435
Volume 2
Part Five Nano-Lab on Chip for Environment 443
14 Nanosensor in Gas Monitoring: A Review 445
Nurhidayatullaili Muhd Julkapli and Samira Bagheri
14.1 Introduction 445
14.2 Sensing Technologies in Petroleum Industries 446
14.3 Nanosensor Technology 447
14.4 Conclusions 461
Acknowledgment 461
References 462
15 Plasmonic Nanomaterials for SERS Detection of Environmental Pollutants 473
Mengke Su and Honglin Liu
15.1 Introduction 473
15.2 About SERS 475
15.3 Environmental Pollution and SERS Detection 478
15.4 Plasmonic Materials for Raman Enhancement 481
15.5 Future Perspective 499
References 501
Part Six Bionanomaterial-based Devices for Environment 515
16 Bionanomaterials as Emerging Sensors in Environmental Management 517
Deepali Sharma, Suvardhan Kanchi, and Myalowenkosi Sabela
16.1 Introduction 517
16.2 Electrochemical Sensors 523
16.3 Applications 524
16.4 Conclusions 535
References 536
17 Role of Bionanomaterial-based Devices in Water Detoxification 543
Priyanka Joshi and Dinesh Kumar
17.1 Introduction 543
17.2 Classical Approaches of Metals 544
17.3 Biosynthesis of Nanoparticles 545
17.4 Characterization Techniques 550
17.5 Wastewater Remediation 550
17.6 Future Perspectives of Green Synthesized Nanoparticles 559
17.7 Conclusions 560
Acknowledgment 560
References 561
18 Nanocellulose as Promising Material for Environmental Applications 579
M. Laura Soriano and Celia Ruiz-Palomero
18.1 Introduction 579
18.2 Analytical Nanoscience and Nanotechnology 580
18.3 Connection of Analytical and Environmental Sciences 581
18.4 Nanocellulose 582
18.5 Different Formats of Nanocellulose-based Sorptive Microextraction 584
18.6 Nanocellulose as Sensor of Contaminants 591
18.7 Promoting Crystallization in Gel Media 592
18.8 Conclusions 592
References 593
19 Functionalized Nanomaterials for Pollution Abatement 599
Himani Medhi and Krishna G. Bhattacharyya
19.1 Introduction 599
19.2 Preparation of Functionalized Nanomaterials 602
19.3 Application of Functionalized Nanomaterials in Pollution Abatement 613
19.4 Conclusions 630
References 631
20 Biopolymers: A Natural Support for Photocatalysts Applied to Pollution Remediation 649
Diseko Boikanyo, Ajay Kumar Mishra, Shivani B. Mishra, and Sabelo D. Mhlanga
20.1 Introduction 649
20.2 Biopolymers: Introduction and Definition of Terms 654
20.3 Immobilization of Photocatalysts on Supports 658
20.4 Survey of Biopolymer-supported Photocatalysts for Pollution Remediation 662
20.5 Conclusions 676
Ackowledgments 677
References 677
21 Bioinspired Nanocomposites for Adsorptive and Photo-assisted Decontamination of Wastewater 685
Akeem Adeyemi Oladipo
21.1 Introduction 685
21.2 Composite and Nanocomposite Materials 687
21.3 Bioinspired Nanocomposite Materials 692
21.4 Environmental Application of Bioinspired Nanocomposites 697
21.5 Summary and Prospects 705
Acknowledgment 706
References 706
Part Seven Toxicity, Economy, Legalization of Nanotechnology 711
22 Economic Aspects of Functionalized Nanomaterials for Environment 713
John Judith Vijaya, Thambidurai Adinaveen, and Mohamed Bououdina
22.1 Introduction 713
22.2 Carbon Nanomaterials for Environmental Devices and Techniques 717
22.3 Functionalized Nanomaterials for Environmental Techniques 721
22.4 Nanoseparation Device for Environment 723
22.5 Magnetic Nanomaterials for Environment 724
22.6 Bionanomaterial-based Devices for Environment 726
22.7 Nano-lab on a Chip for Environment 727
22.8 Toxicity, Economy, and Legalization of Nanotechnology 729
22.9 Nanotechnology: A Green and Sustainable Vision 730
22.10 Conclusions 732
References 732
23 Engineered Nanoparticles' Toxicity: Environmental Aspects 737
Neetu Talreja and Dinesh Kumar
23.1 Introduction 737
23.2 Distribution of Nanoparticles Based on Composition 738
23.3 Common Methods of Engineering of Nanoparticles 739
23.4 Toxicity Based on Physicochemical Properties of NPs 741
23.5 Toxicity of Some Widely Used ENPs to Environmental Organisms 742
23.6 Effect of ENP Toxicity on Plants 745
23.7 Effect of ENP Toxicity on Humans 747
23.8 Metal Toxicity Mechanism 748
23.9 Conclusions and Future Perspective 750
Acknowledgment 751
References 751
Part Eight Nanotechnology: A Green and Sustainable Vision 759
24 Nanotechnology: Key for Sustainable Future 761
Amit Kumar, Susmita Dey Sadhu, and Rajeev Singh
24.1 Introduction 761
24.2 History 762
24.3 Methods of Preparation 762
24.4 Application of Nanotechnology for Sustainable Future 771
References 792
25 Nanotechnology: Greener Approach for Sustainable Environment 805
Ambika and Pradeep Pratap Singh
25.1 Introduction 805
25.2 Classification of Nanomaterials 806
25.3 Synthesis of Nanoparticles 807
25.4 Applications of Green Nanotechnology 811
25.5 Prospects 815
25.6 Conclusions 816
References 816
Conclusions 825
Chaudhery Mustansar Hussain and Ajay Kumar Mishra
Index 829