Medical Ethics, 2nd Edition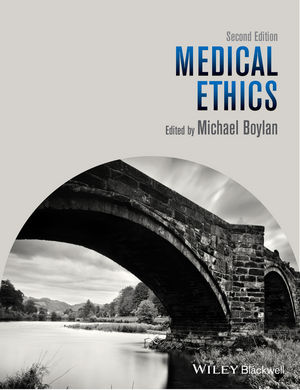 Medical Ethics, 2nd Edition
ISBN: 978-1-118-65795-9 June 2013 Wiley-Blackwell 448 Pages
Description
The second edition of Medical Ethics deals accessibly with a broad range of significant issues in bioethics, and presents the reader with the latest developments. This new edition has been greatly revised and updated, with half of the sections written specifically for this new volume.
An accessible introduction for beginners, offering a combination of important established essays and new essays commissioned especially for this volume
Greatly revised - half of the selections are new to this edition, including two essays on genetic enhancement and a section on gender, race and culture
Includes new material on ethical theory as a grounding for understanding the ethical dimensions of medicine and healthcare
Now includes a short story on organ allocation, providing a vivid approach to the issue for readers
Provides students with the tools to write their own case study essays
An original section on health provides a theoretical context for the succeeding essays
Presents a carefully selected set of readings designed to progressively move the reader to competency in subject comprehension and essay writing
Notes on Contributors x
Preface to the Second Edition xiii
Source Credits xv
1 Ethical Reasoning 1
Michael Boylan
2 Health: The Aim of Medicine 12
Ethics, Infertility, and Public Health: Balancing Public Good and Private Choice 13
Rosemarie Tong
Too Old for the Good of Health? 30
Anita Silvers
Health as Self-Fulfillment 44
Michael Boylan
Evaluating a Case Study: Developing a Practical Ethical Viewpoint 58
3 Physician, Nurse, and Patient: The Practice of Medicine 65
A. Paternalism and Autonomy 72
Medical Paternalism and Patient Autonomy 72
John-Stewart Gordon
Rational Non-Interventional Paternalism: Why Doctors Ought to Make Judgments of What Is Best for Their Patients 83
Julian Savulescu
B. Privacy and Confidentiality 90
Medical Privacy in the Age of Genomics 90
David Koepsell
Ethical Issues Experienced by HIV-Infected African-American Women 98
Katharine V. Smith and Jan Russell
C. Informed Consent 104
Should Informed Consent Be Based on Rational Beliefs? 104
Julian Savulescu and Richard W. Momeyer
Cultural Diversity and Informed Consent 115
Ellen Agard, Daniel Finkelstein, and Edward Wallach
D. Gender, Culture, and Race 120
On Treatment of Myopia: Feminist Standpoint Theory and Bioethics 120
Mary B. Mahowald
Culture and Medical Intervention 131
Michael Boylan
Healthcare Disparity and Changing the Complexion of Orthopedic Surgeons 146
Richard E. Grant and Michael Boylan
Evaluating a Case Study: Finding the Conflicts 157
4 Issues of Life and Death 164
A. Euthanasia 167
Killing and Allowing to Die 167
Daniel Callahan
Euthanasia in The Netherlands: Justifiable Euthanasia 171
Pieter V. Admiraal
Why Doctors Must Not Kill 179
Leon R. Kass
B. Abortion 184
An Almost Absolute Value in History 184
John T. Noonan Jr.
A Defense of Abortion 190
Judith Jarvis Thomson
The Abortion Debate in the Twenty-First Century 203
Michael Boylan
Evaluating a Case Study: Assessing Embedded Levels 218
5 Genetic Enhancement 225
Ethical Issues in Human Enhancement 226
Nick Bostrom and Rebecca Roache
Limitations on Scientific Research 251
Michael Boylan
Evaluating a Case Study: Applying Ethical Issues 265
6 Healthcare Policy 271
A. The Right to Healthcare 275
There Is No "Right" to Healthcare 275
John David Lewis
The Moral Right to Healthcare: Part Two 283
Michael Boylan
B. The Organ Allocation Problem 298
A Review of Ethical Issues in Transplantation 298
Rosamond Rhodes
Fault and the Allocation of Spare Organs 305
Brian Smart
Applicants 313
Felicia Niume Ackerman
C. International Public Health Policy and Ethics 324
Toward Control of Infectious Disease: Ethical Challenges for a Global Effort 324
Margaret P. Battin, Charles B. Smith, Leslie P. Francis, and Jay A. Jacobson
Shaping Ethical Guidelines for an Influenza Pandemic 345
Rosemarie Tong
TB Matters More 360
Michael J. Selgelid, Paul M. Kelly, and Adrian Sleigh
Evaluating a Case Study: Structuring the Essay 373
Further Reading 379