Law For Dummies, 2nd Edition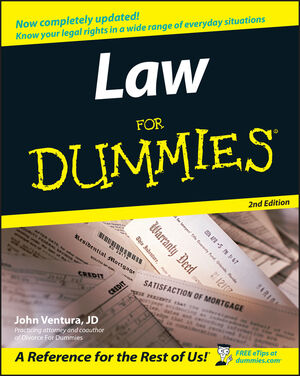 Law For Dummies, 2nd Edition
ISBN: 978-1-118-05408-6 March 2011 384 Pages
Description
Get answers to your legal questions — in plain English!

Find out how to protect your family, your money, your job, and your rights

If you're like most people, you probably don't know much about your legal rights and responsibilities — until you run smack-dab into a messy legal problem. Now revised and updated, this friendly guide helps you get a handle on a wide range of everyday legal issues, decipher legal mumbo-jumbo — and come out on top.

Discover how to:


Protect your child support rights
Arm yourself against identity theft
Clean up your credit and improve your credit score
Hire the right attorney for your needs
Draw up wills and living wills
Introduction.
Part I: Basic Legal Stuff.
Chapter 1: All About Our Legal System.
Chapter 2: Do It Yourself: Solving Your Own Legal Problems.
Chapter 3: Solving Legal Problems with an Attorney.
Part II: Laws That Affect Your Daily Life.
Chapter 4: Relationships, Marriage, and Divorce.
Chapter 5: Parenting and Child Care.
Chapter 6: The Law and Your Job.
Chapter 7: Driving and the Law.
Chapter 8: Privacy: Do You Really Have Any?
Part III: The Law and Your Money.
Chapter 9: So You Want to Be an Entrepreneur!
Chapter 10: Credit: Getting It, Using It, Losing It, Rebuilding It.
Chapter 11: Smart Spending.
Chapter 12: Buying and Selling a Home.
Part IV: Tough Stuff: Being Sick, Getting Older, Dying.
Chapter 13: Your Health Care Rights.
Chapter 14: Getting Older: We All Do It.
Chapter 15: Estate Planning.
Chapter 16: Death and Dying: Doing It Gracefully.
Part V: Crime and Punishment.
Chapter 17: Do the Crime, Do the Time.
Chapter 18: Juvenile Law: The Times Are Changing.
Part VI: The Part of Tens.
Chapter 19: More Than Ten Ways to Avoid Legal Problems.
Chapter 20: Ten Common Mistakes Consumers Make When Hiring an Attorney.
Index.