Latin For Dummies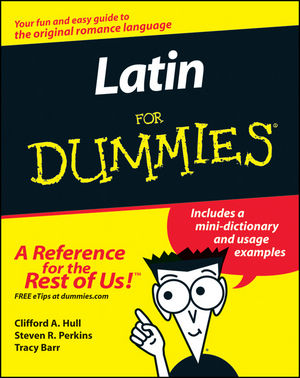 Latin For Dummies
ISBN: 978-1-118-05386-7 June 2011 384 Pages
Description
Earn-lay atin-Lay? No, not that kind of Latin! You can learn trueLatin, with conjugations, declensions, and all those extrasyllables - and it's easier than you think.In fact, most people mistakenly think of learning Latin as perhapsthe most useless, tedious, and difficult thing to do on earth. Theycouldn't be more wrong.

Latin For Dummies takes you back for a quick jauntthrough the parlance of ancient Rome, as well as discussing theprogress of Latin into church language, and its status today as the"dead" language that lives on in English, Spanish,Italian, and most other Western tongues. Written for those withzero prior knowledge of Latin, this snappy guide puts the basics atyour fingertips and steers clear of the arcane, schoolmarmstereotype of endless declensions and Herculean translations.Easy-to-understand sections describe:
* Latin you already know
* Grammar
* Pronunciation
* Latin in action
* Latin in law
* Latin in medicine
* Latin for impressing your friends
* And much more

No dusty tome or other such artifact, Latin For Dummiesmakes learning fun and brings the language to life by presentingconversations in various Roman settings, as well as providing funfacts and stories about classical life. And if you feel you mayactually have a negative aptitude for the language, don'tworry; pronunciations and translations follow every expression, anda helpful mini-dictionary graces the book's last pages.You'll also find out about:
* The quotable Roman
* Latin graffiti
* Latin authors who's who
* Gladiator Latin
* Latin in love, marriage, and family
* From the mouth of Julius Caesar
* Romans on drink
* Helpful Latin-related Web sites
* Fun and games exercises

Designed to introduce and familiarize you with the languagerather than make you the next Cicero, Latin For Dummiesgives you all the tools you need to work at your own pace to learnas much or as little as you like. So noli timere (no-leetih-may-reh) - "have nofear" - and carpe diem ("pick upLatin For Dummies today")!
Introduction.

Part I: Getting Started.

Chapter 1: You Already Know a Little Latin.

Chapter 2: The Nitty Gritty: Basic Latin Grammar.

Chapter 3: Salve! Hello! Greetings and Introductions.

Part II: Latin in Action.

Chapter 4: The Roman Family and Social Structure.

Chapter 5: Food and Housing in Roman Life.

Chapter 6: The Roman Calendar.

Chapter 7: The Roman Army.

Chapter 8: Roman Entertainment and Sports.

Chapter 9: Roman Government.

Chapter 10: More Lasting Than Bronze: Latin Literature.

Part III: Latin in the Modern World.

Chapter 11: Latin in Law.

Chapter 12: Latin in Medicine.

Chapter 13: Latin in the Church.

Chapter 14: Latin in Zoology and Botany.

Chapter 15: Translating and Reading Latin.

Chapter 16: Mottoes, Sayings, and Quotes: Cocktail PartyLatin.

Part IV: The Part of Tens.

Chapter 17: Ten Loanwords from Latin.

Chapter 18: Ten False Friends: Common Mistakes in Latin.

Chapter 19: Ten Helpful Latin-Related Web Sites.

Chapter 20: Ten Common Latin Abbreviations.

Chapter 21: Ten Common Latin Prefixes.

Chapter 22: Ten Important Latin Suffixes.

Part V: Appendixes.

Appendix A: Verb and Noun Tables.

Appendix B: Mini-Dictionary.

Appendix C: Fun & Games Answers.

Index.