History of Anatomy: An International Perspective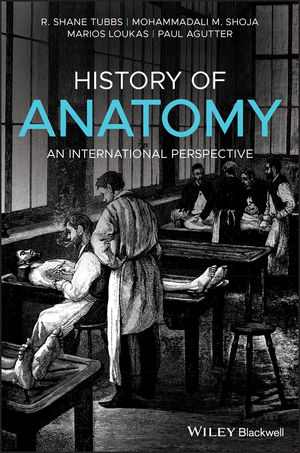 History of Anatomy: An International Perspective
ISBN: 978-1-118-52425-1
Feb 2019, Wiley-Blackwell
300 pages
Description
History of Anatomy: An International Perspective is unique in its global approach to studying the development of human anatomy. Though it references widely known anatomists, such as Aristotle, Galen, and Bell, the book also pay homage to less famous contributors to the field and explains their findings. This comprehensive history of the morphology of humans serves as a useful guide to anatomists, anthropologists, physicians, surgeons, and anyone interested in the early history of medicine and surgery.
Chapter I Africa
Egypt
Edwin Smith Papyrus

Neurological anatomy
Cardiovascular anatomy
Herophilus
Erasistratus
Kahun Papyrus
Reproductive anatomy
Algeria
Jean Baptiste Paulin Trolard
Chapter II Far East
China
Huang di and the Nei Jing
Hua Tuo
Wang Qingren
Benjamin Hobson
Japan
Shinnin Kawaguchi
Genpaku Sugita
Ryotaku Maeno
Shoteki Fuseya
Otsuki Gentaku
Koji Harada and Ryoetsu Hoshino
Buntaro Adachi
Sunao Tawara
India
Susruta
Chapter III Europe
Austria
Heinrich Obersteiner
Emil Zuckerkandl
Czechoslavakia
Vincent Alexander Bochdalek
England
Richard Lower
John Browne
James Drake
Francis Sibson
William Turner
France
Jacobus Sylvius
Charles Estienne
Raymond de Vieussens
Pierre Dionis
Félix Vicq d'Azyr
Marie-François Xavier Bichat
François Magendie
Jules Germain Cloquet
Augusta Déjerine-Klumpke
Germany
Adam Christian Thebesius
Franz Kaspar Hesselbach
Hubert von Luschka
Adolf Wallenberg
Korbinian Brodmann
Greece
Aristotle
Galen
Polybus
Holland
Franciscus Sylvius
Niels Stensen
Pieter Camper
Ireland
Abraham Colles
Italy
Leonardo da Vinci
Vidius Vidius
Giambattista Canano
Matteo Realdo Colombo
Costanzo Varolio
Giulio Cesare Casseri
Giovanni Maria Lancisi
Giovanni Battista Morgagni
Ruggero Ferdinando Antonio Guisseppe Vincenzo Oddi
Norway
Johan Georg Ræder
Scotland
Andrew Fyfe the Elder
Sir John Struthers
Sir Charles Bell
Spain
Antonio de Gimbernat y Arbós
Sweden
Emanuel Swedenborg
Switzerland
Wilhelm His Sr.
Wilhelm His, Jr.
Chapter IV Middle East
Israel

Bible and Talmud
Islamic Middle East
Qur'an and Hadeeth
Persia
Abu Zakariya Yuhanna ibn Masawaih, Mesue
Ali ibn Sahl Rabban al-Tabari
Abubakr Muhammad Ibn Zakaria Razi, Rhazes
Abubakr Rabi ibn Ahmad Joveini Bukhari
Ali ibn Abbas al-Majusi, Hally Abbas
Abu Ali al-Hussain ibn Abdallah ibn Sina, Avicenna
Zinn-ol-Abedin Seyed Esmail ibn al-Hussain ibn Ahmad al-Jorjani
Nasir al-Din Tusi

Babylon
Ibn Jazlah
Chapter V North America
United States
Henry Jacob Bigelow
Oliver Wendell Holmes