German Shepherds For Dummies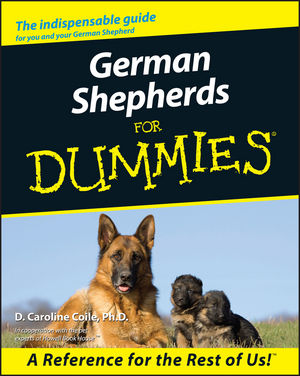 German Shepherds For Dummies
ISBN: 978-1-118-06936-3 April 2011 296 Pages
Description
Everybody thinks they know the German Shepherd. Many of us grew up with Rin Tin Tin, or we saw German Shepherds in nightly news reports breaking up riots, or we saw them in neighbors' backyards protecting children. But that only scratches the surface of one of the most fascinating and confusing breeds on earth. Whether it's selection, nutrition, routine health care, training, competition, or just having fun, there's more to it with a German Shepherd than with other breeds. And if you're thinking about adding one to your family, or you already have one, you need to know all you can about this breed. Which is where German Shepherds For Dummies comes in.

Is this noble and intelligent breed the right dog for you and your family? German Shepherds For Dummies provides the answer to this and all your questions about getting, caring for, and living with this loveable breed. Lifelong German Shepherd owner and longtime German Shepherd breeder, trainer, and exhibitor, Carline Coile, PhD ,gets you up and running with what you need to know to:
Find and communicate with reputable breeders
Choose the right German Shepherd for you
Housebreak and socialize your new puppy
Educate yourself and your dog
Handle behavioral problems
Participate in competitions
Dr. Coile provides insights into the German Shepherd temperament and loads of sensible, easy-to-follow advice, along with fun facts and Shepherd trivia, amusing and informative anecdotes, and tips on how to have a great time with your dog. Discover how to:
Understand how to communicate with your German Shepherd
Train your German Shepherd
Find a good trainer and attend classes
Deal with hereditary health problems
Feed and exercise your German Shepherd
Recognize, prevent and treat common health problems
Have loyal friend for life
The indispensable guide for you and your German Shepherd, German Shepherds For Dummies is the only book you'll need to help you have the best possible experience with this handsome and sensitive breed of dog.
Introduction.

PART I: Getting to Know German Shepherds.

Chapter 1: Making the Decision of a Lifetime.

Chapter 2: Setting the Standard for the Breed.

PART II: Finding the German Shepherd for You.

Chapter 3: Looking for Love in All the Right Places: Breeders and Shelters.

Chapter 4: Picking the Perfect Puppy.

PART III: Bringing Up Baby.

Chapter 5: Shopping for Dog Stuff.

Chapter 6: Welcoming Your Dog Home.

Chapter 7: Feeding Your German Shepherd.

Chapter 8: Training Your Dog.

Chapter 9: Dealing with a "Bad Dog".

Chapter 10: Grooming Your Dog.

PART IV: Keeping Your Dog Healthy.

Chapter 11: Working with Your Dog's Other Best Friend: His Veterinarian.

Chapter 12: Dealing with GSD Hereditary Health Problems.

Chapter 13: Taking Care of a Sick Shepherd.

Chapter 14: Caring for an Aging Shepherd.

PART V: Having Fun with Your German Shepherd.

Chapter 15: Exercising Your Dog.

Chapter 16: Showing Off Your Dog.

Chapter 17: Putting Your Shepherd to Work.

PART VI: The Part of Tens.

Chapter 18: Ten Tips for Traveling with Your Dog.

Chapter 19: Ten Fun Games You Can Play with Your Shepherd.

Appendix A: Glossary.

Appendix B: Resources.

Appendix C: The Official AKC Breed Standard for the German Shepherd Dog.

Appendix D: GSD Abbreviations.

Index.

Book Registration Information.
Chapter
Page
Details
Date
Print Run
4
39
Errata in text
On page 39, delete the below sentence from the 4th paragraph,
(The color section of this book shows a photo of white GSDs.)
9-11-2018

---