Form 990: Exploring the Form's Complex Schedules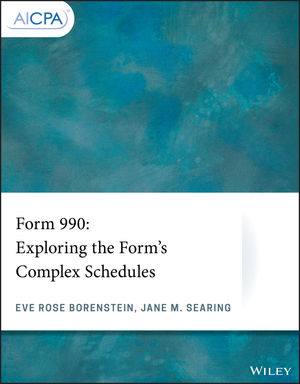 Form 990: Exploring the Form's Complex Schedules
ISBN: 978-1-119-51451-0 May 2018 304 Pages
Description
Mastery of the current Form 990 beyond its Core Form pages requires an understanding of the Form's transparency demands relating to multiple complex issues, including: Transactions with certain insiders, expanded disclosure of highly-comp'd individuals' calendar year compensation, identifying and reporting in the presence of, "related organizations," nuances of the two "public support tests", undertaking of foreign operations, and more.
This book covers the most advanced tax and nonprofit issues related to Form 990's Schedules. You will not only gain an understanding of the tax and practical points necessary to complete Schedules A, C, F, J, K, L, N, and R of the current Form 990, but you will also be advised as to how to communicate with exempt clients on each of these Schedules' unique demands.
This book will prepare you to do the following:
Distinguish between the in-flows of each of the public support tests, apply each test's calculations, and identify what defines a supporting organization, and note such entities' types and attendant reporting obligations.
Distinguish the reporting obligations of 501(c)(3) organizations with respect to lobbying versus that of the proxy tax in place for 501(c) (4), (5), and (6) organizations, and note required electioneering reporting of all 501(c) entities.
Recognize the triggers for Schedule F.
Recall the definitions of Interested Persons applied within each Part of Schedule L.
Recognize the expanded compensation reporting and management practices inquired of in Schedule J.
Appreciate both the need for bond counsel involvement in completing Schedule K and the diverse scenarios that trigger Schedule N.
Identify the common reporting disclosures required in the presence of "related organizations" and the unique reporting demands applied, based on type of entity.
Chapter 1 Introduction to Schedules- the Purpose and Function of The 990's Supplemental Schedules 1-1
Introduction 1-2
The 16 Schedules of the Form 990 (using Mnemonics) 1-3
Chapter 2 Deep Dive into Schedule R, the First Required Schedule (When Applicable) Of the Form 990 2-1
Introduction 2-2
Completion of Schedule R Parts Vis-a-Vis Identifying Disregarded Entities and Related Organizations 2-17
Chapter 3 Deep Dive Into Schedule A How A Public Charity Is Not A Private Foundation 3-1
Schedule A: Public Charity Status and Public Support 3-2
Chapter 4 Other Revenue Disclosures Important To Fundraising (Schedules G-Ii and M) 4-1
Chapter 5 Public Policy, Political Activity, and Lobbying Disclosures on Schedule C 5-1
Chapter 6 The Interested Persons Of Schedule L And The Impact Of This Schedule On
Filing organizations 6-1
Table 1: Definitions of Interested Persons for Schedule L's Parts II through IV 6-4
Category #5's Glossary Definition 6-5
Table 2: Dollar Thresholds and Relevant Time Periods Applied in Schedule L's Parts I through IV 6-7
Schedule L, Part IV Business Transactions 6-10
Schedule L Part II, Loans To/From Interested Persons 6-19
Schedule L, Part III Grants or Assistance Benefiting Interested Persons 6-23
Schedule L Part I, Excess Benefit Transactions (501(c)(3), (c)(4) and(c)(29) organizations only) 6-29
Chapter 7 Foreign Activities (Grant-Making and Beyond) 7-1
Schedule F: Statement of Activities outside the US 7-2
Chapter 8 Fully Disclosing Compensation on Schedule J the Rest of the Core Form Part Vii Story 8-1
Working with Form 990 Compensation Reporting Mandates Specifically, Schedule J's Part II 8-31
Working with Schedule J's Reporting on Compensation Practices-Schedule J, Part I 8-36
Chapter 9 Tax Exempt Bonds and Schedule K 9-1
Introduction 9-2
Chapter 10 The Final Chapter: Schedule N Exempt Entity Is No More, Is In Wind-Up, Or Has Experienced Asset Contraction/Expansion 10-1
Introduction to N's Reporting on Liquidation, Termination, Dissolution Or Significant Disposition of Assets 10-2
Glossary Glossary 1
Index Index 1
Solutions Solutions 1
Chapter 1 Solutions 1
Chapter 2 Solutions 2
Chapter 3 Solutions 3
Chapter 4 Solutions 7
Chapter 5 Solutions 9
Chapter 6 Solutions 10
Chapter 7 Solutions 13
Chapter 8 Solutions 14
Chapter 9 Solutions 17
Chapter 10 Solutions 18
Recent Developments
Users of this course material are encouraged to visit the AICPA website at www.aicpa.org/CPESupplements to access supplemental learning material reflecting recent developments that may be applicable to this course. The AICPA anticipates that supplemental materials will be made available on a quarterly basis. Also available on this site are link Financial Reporting Center which include recent standard-setting activity in the areas of accounting and financial reporting, audit and attest, and compilation, review and preparation.