Environmental Organic Chemistry: Illustrative Examples, Problems, and Case Studies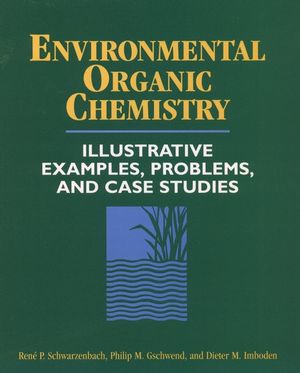 Environmental Organic Chemistry: Illustrative Examples, Problems, and Case Studies
ISBN: 978-0-471-12588-4 May 1995 392 Pages
Description
As the perfect complement to the highly acclaimed Environmental Organic Chemistry, this companion volume enriches the textbook with illustrative examples, applications, practical problems, and case studies. Expanded to include treatment of groundwater systems, rivers, and porous media, this work may also serve as a valuable stand-alone text/reference.

Keyed to related topics in Environmental Organic Chemistry, the support material provided in this book includes:
* Challenging problem sets
* Illustrative calculations that clarify the theoretical discussions in the text
* Case studies dealing with the integrative modeling of organic compounds in various aquatic systems
* Coverage of the basic concepts of modeling
* A review of current literature
* Meticulous cross-referencing to the equations, tables, and figures of Environmental Organic Chemistry

Environmental Organic Chemistry: Illustrative Examples, Problems, and Case Studies brings together theory and practice, while developing problem-solving skills and the critical use of sophisticated models-a valuable supplement to an outstanding text.
Partial table of contents:

Vapor Pressure.

Solubility and Activity Coefficient in Water.

Air-Water Partitioning: The Henry's Law Constant.

Organic Solvent-Water Partitioning;
Bioconcentration.

Diffusion.

The Gas-Liquid Interface: Air-Water Exchange.

Sorption: Solid-Aqueous Solution Exchange.

Chemical Transformation Reactions.

Photochemical Transformation Reactions.

Biological Transformation Reactions.

Organic Compounds in Ponds and Lakes-Case Studies.

Organic Compounds in Rivers: Transport, Mixing, and Reactions.

Organic Compounds in Porous Media.

Bibliography.

Index.