Criminology For Dummies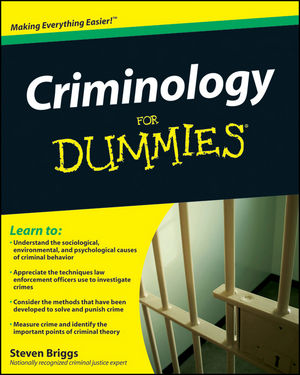 Criminology For Dummies
ISBN: 978-1-118-05266-2
Feb 2011
384 pages
Description
Your thorough guide to comprehending and combating crime
Are you fascinated by criminology, forensics, and detective work? This you-are-there guide takes you deep into the world of crime, giving you a better understanding of the dark recesses of the criminal mind and how law enforcement officials investigate crime. You'll gain real-world knowledge of the reasons for and consequences of crime, the way society responds to it, and, most important, how crime can be prevented.
Enter the world of crime — understand what crime is, how it is measured, and the various ways crime affects victims and society

Identify different types of crime — from white-collar crime to organized crime to terrorism, examine the nature of crime and why certain criminals are attracted to specific crimes

Know who commits crimes, and why — explore different theories that attempt to explain why people commit crimes

Take it to the streets — follow law enforcement officials and federal agencies as they chase and apprehend the bad guys

Seek justice — meet the key players in the criminal justice system and see why and how the guilty are punished

Deal with juveniles — know the differences between adult and juvenile systems, realize why youths are treated differently, and review modern methods for treatment
Open the book and find:
Common criminal traits

The causes of violent crimes

Recent efforts to secure victims' rights

The processes used to solve crimes

A step-by-step walkthrough of the criminal justice process

Ways to recognize and fight back against crime

Jobs in the criminal justice field

Ten notorious, unsolved crimes
Introduction.
Part I: Defining and Measuring Crime.
Chapter 1: Entering the World of Crime.
Chapter 2: What Is Crime?
Chapter 3: How Crime Is Measured and Why It Matters.
Chapter 4: Helping Those in the Wake of Crime: Victims.
Part II: Identifying Types of Crime.
Chapter 5: Getting Violent: Crimes of Force.
Chapter 6: Hitting You in the Pocketbook: Property Crimes.
Chapter 7: Dressing Sharp and Stealing Big: White-Collar Crimes.
Chapter 8: A Group Effort: Organized Crime and Gangs.
Chapter 9: Tackling a Worldwide Problem: The Narcotics Trade.
Chapter 10: Front-Page News: Terrorism.
Part III: Figuring Out Who Commits Crimes and Why.
Chapter 11: What Factors Lead to Crime?
Chapter 12: Regarding Crime as a Rational Decision: Rational Choice Theory.
Chapter 13: Looking at Society's Role in Crime.
Chapter 14: Can Your Mind or Body Make You a Criminal?
Chapter 15: Critical Theory: Theories off the Beaten Path.
Part IV: Fighting Crime.
Chapter 16: Battling Crime at the Local Level.
Chapter 17: Tackling Crime at the Federal Level.
Chapter 18: Solving Crimes: The Process.
Part V: Prosecuting and Punishing Crime.
Chapter 19: Seeking Justice: The Players and Their Roles.
Chapter 20: Finding the Truth: Pleading Guilty or Going to Trial.
Chapter 21: Punishing the Guilty: Why and How Society Does It.
Chapter 22: Examining the Juvenile Justice System.
Part VI: The Part of Tens.
Chapter 23: Ten Jobs to Consider in Criminal Justice.
Chapter 24: Ten Notorious, Unsolved Crimes.
Index.