Cosmetic Laser Surgery: A Practitioner's Guide, 2nd Edition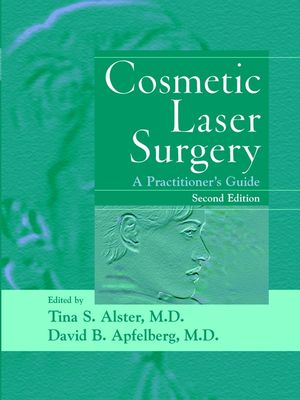 Cosmetic Laser Surgery: A Practitioner's Guide, 2nd Edition
ISBN: 978-0-471-25270-2 October 1998 416 Pages
Description
Reviews from the first edition:

"...well written, with many excellent clinical photographs."-The American Journal of Cosmetic Surgery

"...many excellent clinical 'pearls'...Any dermatologist...will find this book a worthwhile investment."-Archives of Dermatology
Evaluation, Installation, and Marketing of a Cosmetic Laser Practice (T. Alster & D. Apfelberg).

Skin Resurfacing with High-Energy, Short-Pulsed Carbon Dioxide Lasers: Preoperative Assessment, Patient Evaluation and Preparation, Sequence of Procedure, and Adjunctive Care (D. Apfelberg).

Laser Resurfacing: A Microscopic Analysis (A. Kauvar).

Postoperative Management and Complications of Carbon Dioxide Laser Resurfacing (C. Nanni).

The Erbium Laser in Skin Resurfacing (E. Ross & R. Anderson).

Management of Dyschromias with Reference to Laser Therapy (W. Chernoff).

Laser Approach to Upper Facial Rejuvenation (C. Weinstein).

Carbon Dioxide Laser Blepharoplasty, Ptosis Correction, and Treatment of Festoons (S. Baker & J. Woodward).

Complications of Laser-Assisted Blepharoplasty (B. Biesman).

Endoscopic Laser Brow Lift (N. Isse).

Laser-Assisted Suprafibromuscular and Endoscopic Rhytidectomy (G. Keller & J. Rawnsley).

Laser-Assisted Uvulopalatoplasty (A. Blitzer & Y. Krespi).

Laser-Assisted Hair Transplantation (W. Unger).

Laser Hair Removal (M. Grossman).

Laser Scar Revision (T. Alster).

Current Therapy of Striae Distensae with the 585-NM Pulsed Dye Laser (K. Ash & D. McDaniel).

Laser Treatment of Facial and Leg Telangiectasias (T. West & S. Kovak).

Laser Treatment of Pigmented Lesions (D. Goldberg).

Laser Treatment of Tattoos (S. Kilmer).

Laser Safety Management: Hazards, Risks, and Control Measures (P. Smalley).

Appendices.

Index.
"A beautifully written and illustrated text on cosmetic laser surgery loaded with practical advice and data on the wide variety of lasers and their individual uses." --Journal of the American Association of Forensic Dentists, July 1999