CompTIA A+ Complete Deluxe Study Guide: Exam 220-1001 and Exam 220-1002, 4th Edition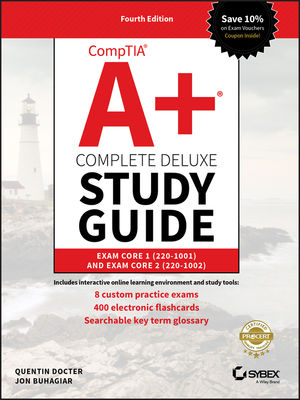 CompTIA A+ Complete Deluxe Study Guide: Exam 220-1001 and Exam 220-1002, 4th Edition
ISBN: 978-1-119-51596-8
Apr 2019
1392 pages
Product not available for purchase
Description
A great value!

Building on the popular Sybex Study Guide approach, this new edition of the best-selling CompTIA A+ Complete Deluxe Study Guide will be completely revised to cover changes to the exams. The book will provide 100% coverage of the A+ exam objectives, and contain clear and concise information on crucial hardware and operating system maintenance and troubleshoot topics.

CompTIA A+ 220-1001 covers PC hardware and peripherals, mobile device hardware, networking and troubleshooting hardware and network connectivity issues.

CompTIA A+ 220-1002 covers installing and configuring operating systems including Windows, iOS, Android, Apple OS X and Linux. It also addresses security, the fundamentals of cloud computing and operational procedures.

Readers will also have access to additional learning resources, including the Sybex interactive online learning environment and test bank with bonus practice exams, electronic flashcards, and a searchable PDF of a Glossary of the most important terms readers will need to understand. PLUS:

eBooks in multiple formats to read on different devices
4 additional Practice Exams--for a total of 8 Practice Exams to help you study
2 sets of Flashcards to review
This new edition of the Deluxe Study Guide will include practical examples and insights drawn from real-world experience, as well as exam highlights and end-of-chapter review.