Common U.S. GAAP Issues Facing CPAS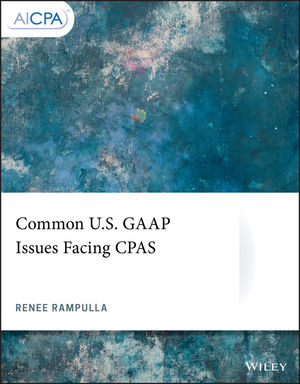 Common U.S. GAAP Issues Facing CPAS
ISBN: 978-1-119-51433-6
Apr 2018
288 pages
Description
Are you looking for a review and update of common GAAP issues important to all CPAs? This broad-ranging book covers FASB accounting and reporting developments that apply to all companies. Emphasizing financial statement disclosures in addition to accounting methods, it presents implementation guidelines and disclosure illustrations from actual financial statements.
This book will prepare you to:
Identify and apply select FASB accounting and reporting guidance.
Recall concepts related to FASB projects.
Recall key points related to disclosures.
Chapter 1 1-1
The Financial Reporting Environment 1-1
Practice Questions 1-13
Chapter 2 2-1
Summary of Recent Accounting Standards Updates 2-1
Part 1: Guidance Effective in 2016 2-2
Part 2: Guidance Effective in 2017 and Beyond 2-20
Part 3: Guidance Relating to the Private Company Council 2-50
Chapter 3 3-1
Accounting Guidance on the Horizon 3-1
FASB Framework Projects 3-2
FASB Recognition and Measurement Projects 3-3
FASB Presentation and Disclosure Projects 3-8
Practice Question 3-12
Chapter 4 4-1
Recognizing Revenue Under the New Standard: Core Principles and Resources 4-1
Practice Questions 4-14
Chapter 5 5-1
The New Leasing Model 5-1
Evolution of the New Leasing Standard 5-2
Determining Whether an Arrangement Contains a Lease 5-6
Organization of the New Lease Accounting Standards 5-16
Chapter 6 6-1
Fair Value Accounting 6-1
Chapter 7 7-1
Inventory 7-1
Practice Question 7-7
Solutions to Practice Question 7-8
Chapter 8 8-1
Intangible Assets, Goodwill, and Asset Impairment and Disposal Issues 8-1
Chapter 9 9-1
Property, Plant, and Equipment Including Capitalized
Interest and Nonmonetary Transactions 9-1
Practice Question 9-11
Solutions to Practice Question 9-12
Chapter 10 10-1
Accounting for Debt 10-1
Chapter 11 11-1
Accounting for Income Taxes 11-1
Measuring Deferred Tax Assets and Liabilities 11-6
Intraperiod Tax Allocation 11-10
Disclosure Requirements 11-13
Chapter 12 12-1
Financial Statement Presentation and Notes Disclosures 12-1
Chapter 13 13-1
The Financial Statements 13-1
Glossary Glossary 1
Index Index 1
Solutions Solutions 1
Chapter 1 Solutions 1
Chapter 2 Solutions 2
Chapter 3 Solutions 4
Chapter 4 Solutions 5
Chapter 5 Solutions 6
Chapter 6 Solutions 7
Chapter 7 Solutions 8
Chapter 8 Solutions 10
Chapter 9 Solutions 11
Chapter 10 Solutions 12
Chapter 11 Solutions 13
Chapter 12 Solutions 14
Chapter 13 Solutions 16