Codification of Statements on Standards for Accounting and Review Services: Numbers 21-24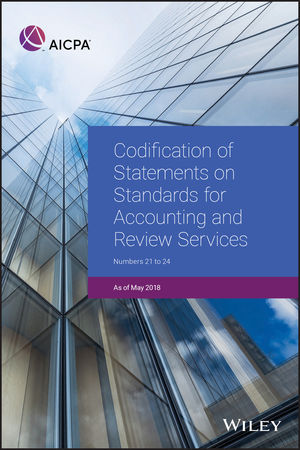 Codification of Statements on Standards for Accounting and Review Services: Numbers 21-24
ISBN: 978-1-948-30642-3 June 2018 336 Pages
Description
This edition includes the authoritative standards and interpretations applicable to preparation, compilation, and review engagements. These standards provide the requirements for practitioners performing these engagements. In addition to SSARS No. 21, which is now effective, this edition includes the newly released Statements on Standards for Accounting and Review Services (SSARS): SSARS No. 24, Omnibus Statement on Standards for Accounting and Review Services—2018. SSARS No. 24 creates a new section, AR-C section 100, Special Considerations— International Reporting Issues, to provide requirements and guidance when an accountant is engaged to perform a compilation or review in either of the following circumstances:
The financial statements have been prepared in accordance with a financial reporting framework generally accepted in another country.
The compilation or review is to be performed in accordance with both SSARSs and another set of compilation or review standards.
Additional significant changes attributed to SSARS No. 24 include amendments to the following sections:
AR-C Section 60, General Principles for Engagements Performed in Accordance with Statements on Standards for Accounting and Review Services
AR-C Section 90, Review of Financial Statements
This codification is fully indexed and arranged by subject. The guidance (and related interpretations to the extent applicable) help apply the standards in specific circumstances and clearly show amendments, deleted or superseded portions, and conforming changes due to the issuance of other authoritative guidance.
Section
How This Publication Is Organized 1
STATEMENTS ON STANDARDS FOR ACCOUNTING AND REVIEW SERVICES (Clarified) [AR-C]
AR-C Cross-References to SSARSs 3
AR-C Introduction 5
Statements on Standards for Accounting and Review Services (Clarified) 15
60 General Principles for Engagements Performed in Accordance With Statements on Standards for Accounting and Review Services 27
60A General Principles for Engagements Performed in Accordance With Statements on Standards for Accounting and Review Services 47
70 Preparation of Financial Statements 65
80 Compilation Engagements 79
90 Review of Financial Statements 115
90A Review of Financial Statements 199
9090 Review of Financial Statements: Accounting and Review Services Interpretation of AR-C Section 90 275
100 Special Considerations—International Reporting Issues 277
120 Compilation of Pro Forma Financial Information 289
AR-C Appendixes 303
AR-C Topical Index 307