CCNA Routing and Switching Certification Kit: Exams 100-101, 200-201, 200-120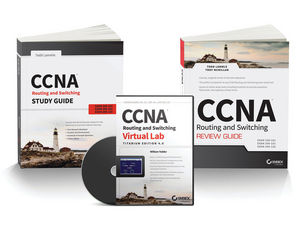 CCNA Routing and Switching Certification Kit: Exams 100-101, 200-201, 200-120
ISBN: 978-1-118-78958-2
Jan 2014
1704 pages
Product not available for purchase
Description
Everything You Need to Prepare for the CCNA Routing and Switching Exams
This value-priced bundle contains everything certification candidates need to prepare for CCNA exams ICND1 100-101, ICND2 200-101, and the CCNA Composite exam 200-120, well as build the foundation for a career as a networking administrator.  Featuring the bestselling CCNA Study Guide from Cisco Networking Authority Todd Lammle, this kit is a complete prep package that will enable you to study, practice, and review so that you can approach the exam with confidence.
The Certification Kit includes:
CCNA Routing and Switching Study Guide – Provides in-depth coverage of every exam objective, access to over an hour of useful video and audio files, a network simulator to help you complete the hands-on labs without additional hardware, and a practice test environment with hundreds of questions, flashcards, and more
CCNA Routing and Switching Virtual Lab, Titanium Edition 4.0 – Allows you to create simulated networks using an unlimited number of routers and switches. Exam candidates can either follow the prepared lab exercises or experiment with the hundreds of configuration commands built into the simulator
CCNA Routing and Switching Review Guide – Organized by exam objectives, this focused, concise guide provides you with that last-minute prep to hammer home concepts. Content in this book maps directly to the main exam objectives, so you can focus your study and make the most of your time
The CCNA Routing and Switching Certification Kit is your one-stop, complete resource for CCNA Routing and Switching exam prep.
Introduction xxvii

Part I ICND1 1
Chapter 1 Internetworking 3
Chapter 2 Ethernet Networking and Data Encapsulation 41
Chapter 3 Introduction to TCP/IP 87
Chapter 4 Easy Subnetting 139
Chapter 5 VLSMs, Summarization, and Troubleshooting TCP/IP 181
Chapter 6 Cisco's Internetworking Operating System (IOS) 213
Chapter 7 Managing a Cisco Internetwork 283
Chapter 8 IP Routing 331
Chapter 9 Open Shortest Path First (OSPF) 385
Chapter 10 Layer 2 Switching 425
Chapter 11 VLANs and InterVLAN Routing 459
Chapter 12 Security 501
Chapter 13 Network Address Translation (NAT) 541
Chapter 14 Internet Protocol Version 6 (IPv6) 569
Part II ICND2 613
Chapter 15 Enhanced Switched Technologies 615
Chapter 16 Managing Cisco Devices 661
Chapter 17 IP Services 699
Chapter 18 Troubleshooting IP, IPv6, and VLANs 741
Chapter 19 Enhanced IGRP 783
Chapter 20 Multi-Area OSPF 847
Chapter 21 Wide Area Networks 897
Appendix A Answers to Written Labs 967
Chapter 1: Internetworking 968
Chapter 2: Ethernet Networking and Data Encapsulation 970
Chapter 3: Introduction to TCP/IP 974
Chapter 4: Easy Subnetting 975
Chapter 5: VLSMs, Summarization and Troubleshooting TCP/IP 977
Chapter 6: Cisco's Internetworking Operating System (IOS) 978
Chapter 7: Managing a Cisco Internetwork 978
Appendix C Disabling and Configuring Network Services 1029
Appendix D About the Additional Study Tools 1041
Index 1045