Better Farm Accounting: A Practical Guide for Preparing Farm Income Tax Returns, Financial Statements, and Analysis Reports, 5th Edition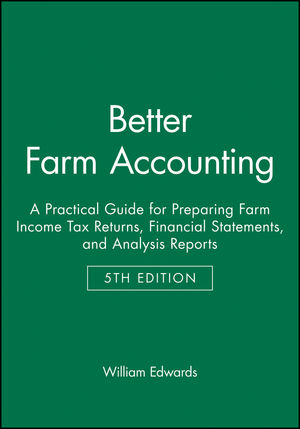 Better Farm Accounting: A Practical Guide for Preparing Farm Income Tax Returns, Financial Statements, and Analysis Reports, 5th Edition
ISBN: 978-0-813-82156-6 January 2007 Wiley-Blackwell 48 Pages
Description
Better Farm Accounting has been an agricultural institution since its initial publication in 1946. This inexpensive, easy-to-use book has served as a practical aid to agricultural producers for generations. The new edition will include updated headings for income and expenses and information will be reorganized to make this edition even more user-friendly. In addition, new separate sections devoted to purchases and sales of capital assets, loans, and loan payments will also be added. The 5th edition of this venerable classic will ensure its practical use for generations to come.
Crop Sales.
Livestock Sales.
Livestock Product Sales.
Other Farm Income.
Machinery, Land and Improvements.
Livestock Purchases.
Farm Expenses.
Car and Truck Expenses.
Wages and Deductions.
Loans and Loan Payments.
Nonfarm Expenses.
Summaries of Income and Expenses.
Depreciation, Cooperative Distributions, Cash Income.
Crop Inventories.
Livestock Inventories.
Loans and Credits Inventory.
Net Worth Statement.
Net Income Statement.
Crop Record.
Livestock and Feed Record.
Efficiency Analysis.
Map of Our Farm


New, more user-friendly organization

Revised and updated headings for income and expenses

New separate sections for purchases and sales of capital assets, loans, and loan payments