Assessing Student Learning: A Common Sense Guide, 3rd Edition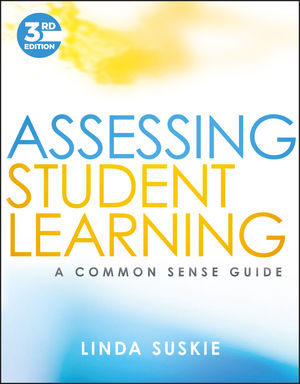 Assessing Student Learning: A Common Sense Guide, 3rd Edition
ISBN: 978-1-119-42692-9
Jan 2018, Jossey-Bass
408 pages
Description
Assessing Student Learning is a standard reference for college faculty and administrators, and the third edition of this highly regarded book continues to offer comprehensive, practical, plainspoken guidance. The third edition adds a stronger emphasis on making assessment useful; greater attention to building a culture in which assessment is used to inform important decisions; an enhanced focus on the many settings of assessment, especially general education and co-curricula; a new emphasis on synthesizing evidence of student learning into an overall picture of an integrated learning experience; new chapters on curriculum design and assessing the hard-to-assess; more thorough information on organizing assessment processes; new frameworks for rubric design and setting standards and targets; and many new resources. Faculty, administrators, new and experienced assessment practitioners, and students in graduate courses on higher education assessment will all find this a valuable addition to their bookshelves.
List of Tables, Lists, Figures, and Exhibits
List of Jargon Alerts
Preface
Acknowledgements
About the Author
Introduction
Part I. Understanding Assessment
1. What is Assessment?
2. The Many Settings for Student Learning and Assessment
3. What are Effective Assessment Practices?
Part II. Laying a Foundation for Assessment Success
4. Learning Goals: Articulating What You Most Want Students to Learn
5. Designing Curricula to Help Students Learn What's Important
6. How Will Your Student Learning Evidence Be Used?
7. Planning Assessments in Academic Programs
8. Planning Assessments in General Education, Co-Curricula, and Other Settings
Part III. Building a Pervasive, Enduring Culture of Evidence and Betterment
9. Guiding and Coordinating Assessment Efforts
10. Helping Everyone Learn What to Do
11. Supporting Assessment Efforts
12. Keeping Assessment Cost-Effective
13. Collaborating on Assessment
14. Valuing Assessment and the People Who Contribute
Part IV. the Assessment Toolbox
15. Designing Rubrics to Plan and Assess Assignments
16. Creating Effective Assignments
17. Writing Multiple Choice and Other Traditional Tests
18. Assembling Evidence of Student Learning into Portfolios
19. Selecting Published Instruments
20. Other Assessment Tools
21. Assessing the Hard-to-Assess
Part V. Understanding and Using Evidence of Student Learning
22. Setting Appropriately Rigorous Standards and Targets
23. Summarizing and Storing Evidence of Student Learning
24. Analyzing Evidence of Student Learning
25. Sharing Evidence of Student Learning
26. Using Evidence of Student Learning to Inform Important Decisions
References
Index