Accounting, 10th Edition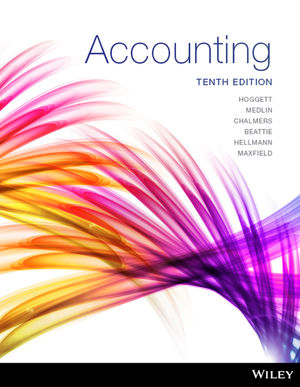 Accounting, 10th Edition
ISBN: 978-0-730-34456-8
Jul 2017
200 pages
Description
The tenth edition of Accounting provides an introductory but comprehensive description of the purpose, practice and process of contemporary international financial and management accounting in an Australian context. With the increased emphasis on the globalisation of business, the material is ideal for the study of introductory accounting in a broad international context.
The tenth edition builds on the strengths of previous editions with a strong focus on the decision-making role of accounting, as well as on a student's acquisition of generic skills such as communication, analytical, problem solving, critical thinking and judgement skills. The technical skills required in the application of accounting concepts still remain a core objective of the new edition.
Delivered as a WileyPLUS Learning Space interactive online textbook, this rich digital resource brings accounting to life with media such as videos, case studies, interactives and revision materials embedded at the point of learning.
Chapter 1. Decision making and the role of accounting
Chapter 2. Financial statements for decision making
Chapter 3. Recording transactions
Chapter 4. Adjusting the accounts and preparing financial statements
Chapter 5. Completing the accounting cycle — closing and reversing entries
Chapter 6. Accounting for retailing
Chapter 7. Accounting systems
Chapter 8. Partnerships: formation, operation and reporting
Chapter 9. Companies: formation and operations
Chapter 10. Regulation and the Conceptual Framework
Chapter 11. Cash management and control
Chapter 12. Receivables
Chapter 13. Inventories
Chapter 14. Non-current assets: acquisition and depreciation
Chapter 15. Non-current assets: revaluation, disposal and other aspects
Chapter 16. Liabilities
Chapter 17. Presentation of financial statements
Chapter 18. Statement of cash flows
Chapter 19. Analysis and interpretation of financial statements
Chapter 20. Accounting for manufacturing
Chapter 21. Cost accounting systems
Chapter 22. Cost–volume–profit analysis for decision making
Chapter 23. Budgeting for planning and control
Chapter 24. Performance evaluation for managers
Chapter 25. Differential analysis, profitability analysis and capital budgeting
Decision-Making Focus: Hoggett's 10th edition builds upon previous edition's technical skills with a strong focus on decision-making.
Hear from Practitioners: Exclusive videos from high-profile practitioners to provide insights into the real-world application of accounting.
Embedded Rich Media: Demo problems, interactive questions and other rich media are embedded throughout the text.
Revision Modules: Revision materials are integrated throughout to help students engage with, understand and retain course concepts.
Interactive Online Textbook: The WileyPLUS Learning Space interactive textbook is full of rich media and activities to facilitate engaged learning.
Personalised Practice: The Student Adaptive Pathway powered by ORION provides personalised practice and instant feedback to motivate and build students' proficiency.